Zesty Veal Tacos with Green Salsa
Tacos
500g Richmond Valley Veal Scotch Fillet
8 small to medium tortillas
2 garlic cloves, finely chopped
½ tsp ground cumin
¼ cup coriander, chopped
¼ cup fresh lime juice
¼ cup extra virgin olive oil
1 tsp salt
½ tsp pepper
Green Salsa
1 clove garlic, finely diced
1 jalapeno, finely diced
1 large cucumber, chopped
2 spring onions, finely chopped
½ cup coriander, chopped
3 tbsp fresh lime juice
2 tbsp olive oil
½ tsp salt, or more to taste
1 Avocado, diced
½ cup sour cream
Combine garlic, cumin, coriander, lime juice, olive oil, salt and pepper in a bowl. Add veal and toss to coat. Cover and marinate for 30 minutes at room temperature, or chill overnight in the refrigerator, tossing occasionally.
Bring veal to room temperature if chilled. Heat a grill or grill pan over medium-high heat. Remove veal from the marinade, scraping the garlic from the meat, and discard marinade. Grill for 2–3 minutes per side for medium-rare. Let rest 10 minutes before thinly slicing against the grain.
Warm tortillas in a microwave, oven, or over the grill. Divide the veal among tortillas, then top with the green salsa and serve with avocado and sour cream.
Green Salsa
Place all ingredients in a bowl and toss gently. Taste and add more salt or lime juice if required.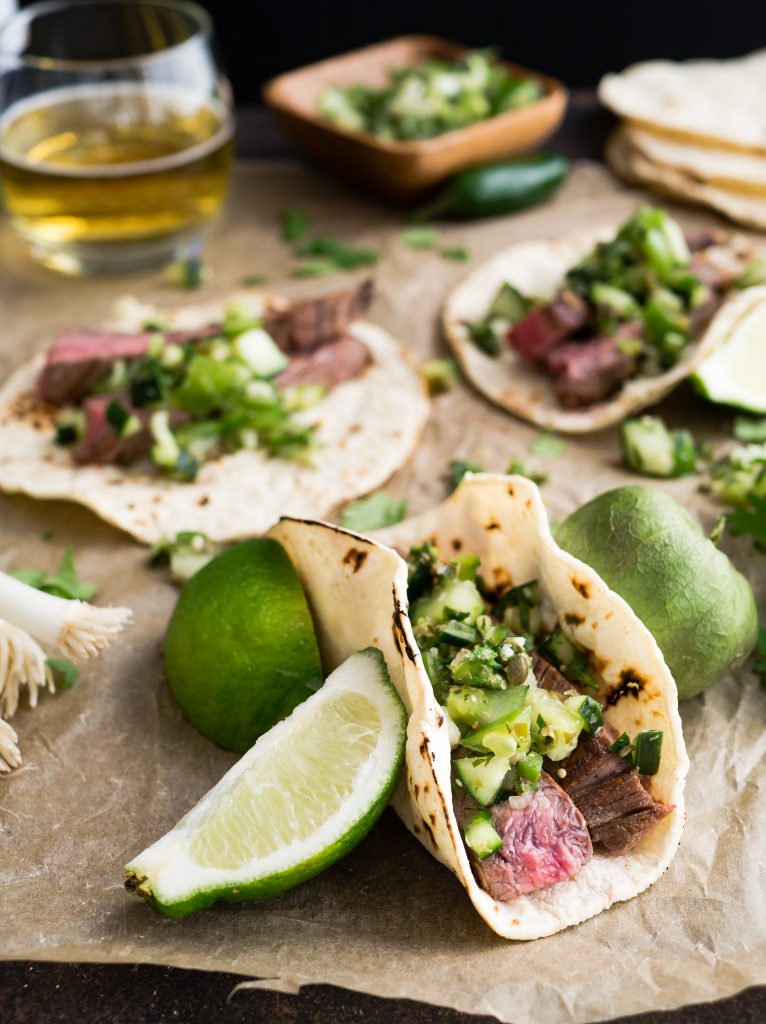 REDISCOVER A
COOKING CLASSIC