Wiener Schnitzel with Classic Potato Salad
2 packs Richmond Valley Veal Sizzle Steak
75 gm plain flour
2 eggs, lightly beaten
200m fresh fine breadcrumbs
60g butter, coarsely chopped
Lemon wedges, to serve
Potato Salad
6 large Dutch cream potatoes, cut into 5cm cubes
6 eggs, at room temperature
250g crème fraîche
200g mayonnaise
1 tsp Dijon mustard
1 tbsp white wine vinegar
70g baby capers
100g cornichon, thinly sliced
2 golden shallots, thinly sliced
½ bunch dill, leaves picked
Potato Salad
Cook potatoes in boiling salted water until tender (10-15 minutes), then drain and set aside to dry. Place eggs in a saucepan of boiling water and cook for 8 minutes, then drain and transfer to iced water to stop cooking. Peel and set aside. Combine remaining ingredients in a bowl and season to taste. Add potato and gently mix to coat well, then transfer to a platter, top with eggs torn in half, scatter with dill, season with black pepper and serve.
Wiener Schnitzel
Place flour, eggs and breadcrumbs in separate shallow bowls. Working with one piece of veal at a time, dip in flour, then egg, then breadcrumbs to coat, shaking off excess between layers. Repeat with remaining veal slices. Set aside.
Heat a large frying pan over medium-high heat, add half the butter, when foaming add half the schnitzel and cook, turning once, until golden and cooked through (3-5 minutes). Transfer to a plate and keep warm. Wipe pan clean with absorbent paper, then repeat with remaining butter and schnitzel.
Serve immediately with lemon wedges.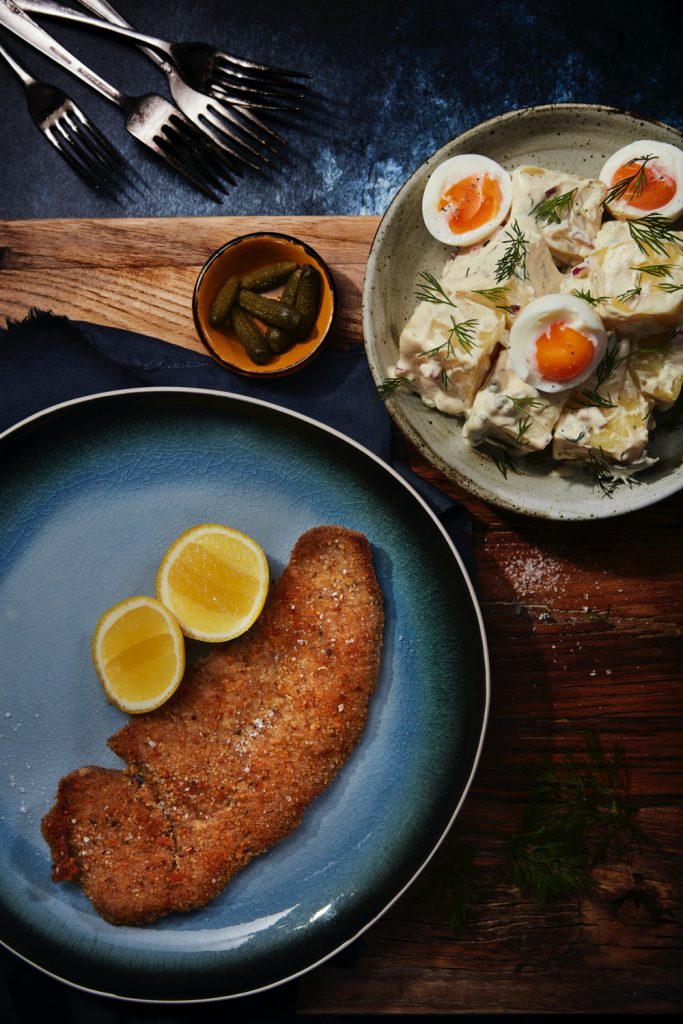 REDISCOVER A
COOKING CLASSIC