Veal Steak Sandwich, Crusty Turkish Bread & Truffle Brie
4 Richmond Valley Veal Sizzle Steaks
4 Turkish bread rolls, cut in half & buttered
2 tsp olive oil
8 leaves fancy lettuce, washed
2 Roma tomatoes, sliced
½ red onion, sliced in rings
½ wheel truffle brie, sliced into 8 pieces
Aioli to serve
Salt & pepper
Heat a large frypan on low heat and add Turkish bread, butter side down. Cook slowly for 3-4 minutes until golden brown and crispy. Do this in batches until all the bread is cooked. Remove from pan and set aside.
Bring the pan to a high heat and add the olive oil. Add steaks and fry, 1-2 minutes each side until cooked to your liking. Remove steaks to a plate and place two pieces of brie on each steak – this will help the brie to become soft and gooey. Rest for 5 mins.
Lay out the Turkish bread halves and spread with a little aioli, top and bottom. Layer lettuce, tomato and onion and finish with steak and brie. Top with the Turkish bread lid and serve.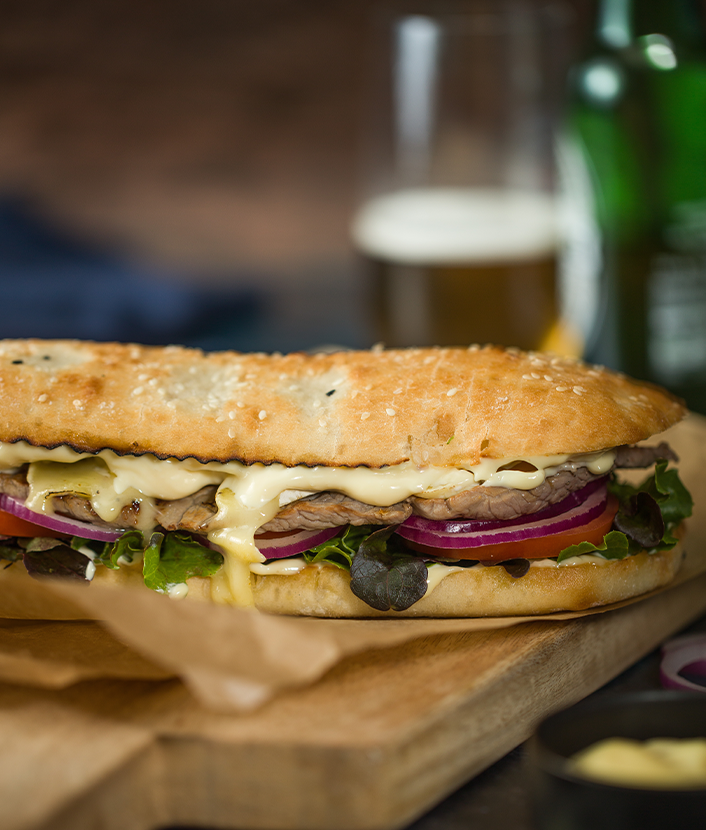 REDISCOVER A
COOKING CLASSIC