Veal Scotch Fillet, Zesty Gremolata, Red Cabbage & Fennel Slaw with Kipfler Potatoes
4 Richmond Valley Veal Scotch Fillet Steaks
Vegetable Oil
Gremolata
1 bunch flat-leaf parsley, picked & finely chopped
1 clove garlic, finely minced
2 tsp lemon zest, finely shredded
A pinch of salt
Smashed Kipflers
6 – 8 Kipfler potatoes, washed & scrubbed
2 sprigs thyme, picked & finely chopped
2 tbsp olive oil
Salt & pepper
Red Cabbage & Fennel Slaw
¼ red cabbage, finely shredded
1 fennel bulb, thinly sliced
1 carrot, peeled & julienned
¼ cup mayonnaise
Salt & pepper
Gremolata
Combine all ingredients in a mortar and pestle, pound lightly and set aside.
Smashed Kipflers
Place potatoes in a large pot of water and bring to the boil. Simmer for 15-20 mins or until tender. Drain and place in a bowl. Lightly crush potatoes with the back of a spoon and mix through olive oil, thyme, salt and pepper. Be careful not to over mix. Set aside.
Red Cabbage & Fennel Slaw
Combine cabbage, fennel and carrot in a bowl and toss well, stir in mayonnaise. Season well with salt and pepper. Set aside.
Veal Steak
Season the steak well with salt and pepper. Heat a heavy-based frying pan until very hot but not smoking. Drizzle some oil into the pan. Add the steak. Sear evenly for 2 mins on each side, turning every minute for the best-caramelised crust. Leave to rest on a board or warm plate for about 5 mins.
Top the steaks with the gremolata and serve with slaw and smashed kipflers.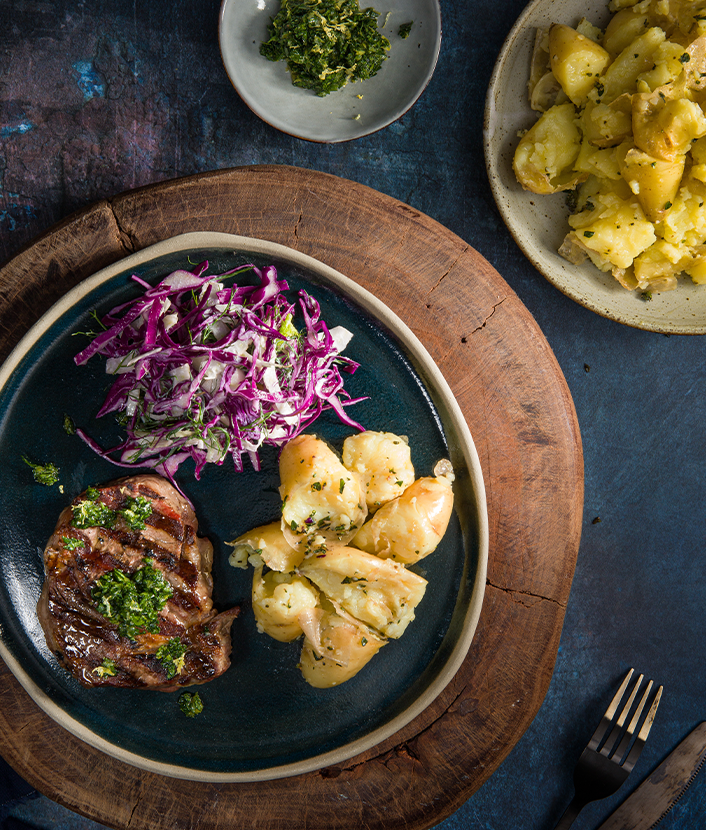 REDISCOVER A
COOKING CLASSIC