Veal Kofta with Lemon Herb Couscous and Saffron Yoghurt
Kofta
500g Richmond Valley Veal Mince
2 cloves garlic, minced
1 red onion, finely diced
½ bunch coriander, finely chopped
½ bunch flat leaf parsley, finely chopped
2 tbsp Moroccan spice
½ tsp ground allspice
Salt & pepper
2 tbsp olive oil

Lemon Couscous
200g pearl couscous
2 tbsp olive oil
1 red onion, finely diced
1 lemon, zest and juice
½ cup coriander, finely chopped
½ cup flat leaf parsley, finely chopped
½ cup mint, finely chopped

Saffron Yoghurt
1 small pinch saffron threads
3 tbsp boiling water
1 cup natural yoghurt
½ clove garlic, finely minced
2 tbsp olive oil
Kofta
Combine all ingredients, except oil, in a large bowl. Mix together well, working the proteins to help hold the kofta together. Roll into 12 small sausage shapes, place on a tray and chill for 30 minutes.
Lemon Couscous
Cook as per directions on pack. Drain and set aside to cool slightly. In a medium bowl combine the rest of the ingredients and mix in the couscous.
Saffron Yoghurt
Add the saffron to a small bowl of boiling water, leave for 5 minutes. Drain, then combine with the yoghurt, garlic and olive oil, season to taste. Set aside.

Heat the oil in a large frying pan over medium-high heat. Cook the koftas, turning occasionally, for 6-7 minutes, until crisp and cooked through.

Serve with lemon couscous, saffron yoghurt and lemon wedges for extra zing.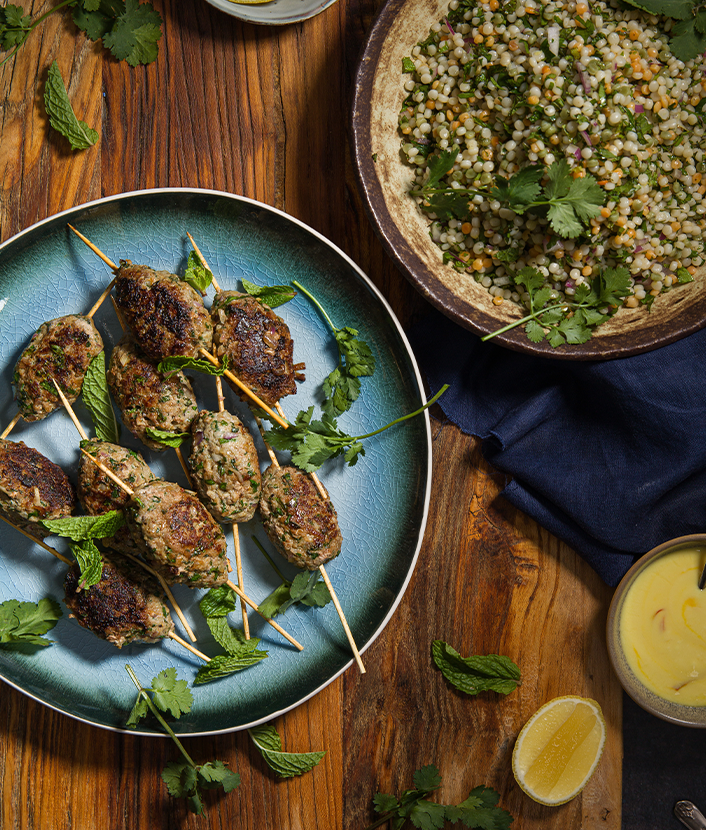 REDISCOVER A
COOKING CLASSIC