1 pack Richmond Valley Veal Sizzle Steak
2 eggs, lightly beaten
Plain flour, for dusting
80g panko crumbs
2 tbsp roasted sesame seeds, plus extra to serve
200ml grapeseed oil
40g butter, plus extra, softened for spreading
16 brioche slider buns, halved
Watercress
Slaw
400g white cabbage (about ¼ head), thinly sliced on a mandolin
½ small white onion, very thinly sliced
50g Japanese Kewpie mayonnaise
1 tbsp lemon juice
Place beaten egg and flour in separate wide bowls. Combine panko and sesame seeds on a tray and season to taste. Turn veal in flour to coat, then egg, then crumbs, pressing into crumbs so they stick.
Heat 2cm grapeseed oil in a frying pan over medium-high heat until shimmering, then shallow-fry veal in batches, turning once, until golden brown and cooked through (1-2 minutes each side). Drain on paper towels, then halve.
Slaw
Toss all ingredients in a bowl to combine and season to taste.
To serve, butter brioche bun bases, top with veal, slaw and watercress, season to taste and sandwich with brioche tops.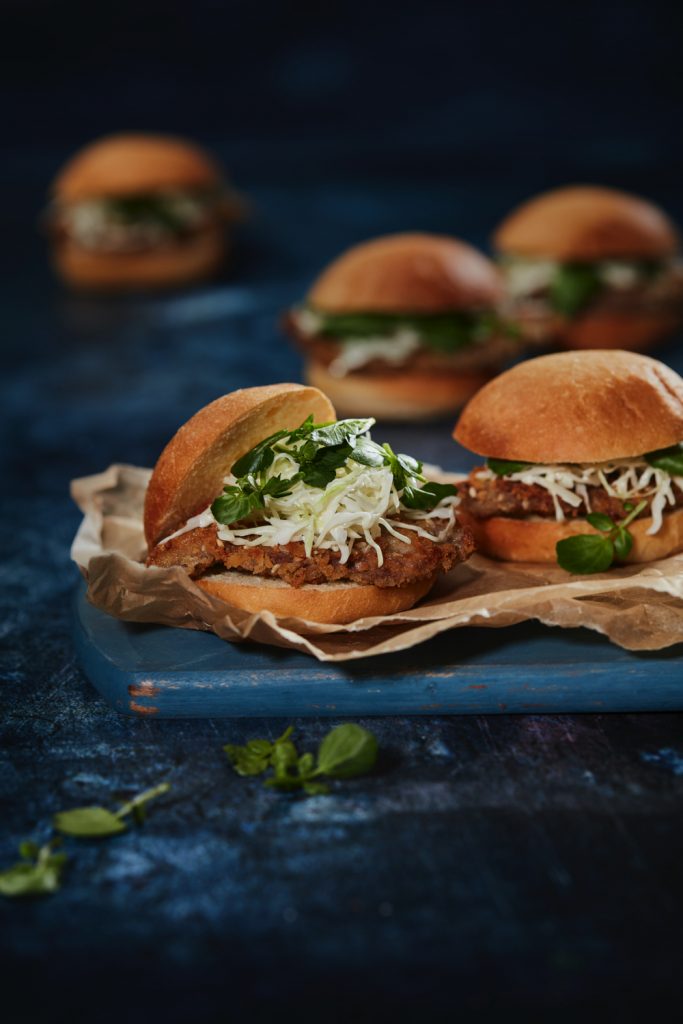 REDISCOVER A
COOKING CLASSIC