Veal Fillet with Tonnato Sauce
2 packs Richmond Valley Veal Scotch Fillets
Olive oil for frying and drizzling
Sea salt flakes
50g watercress or rocket
1 tsp extra-virgin olive oil
½ tsp balsamic vinegar to serve
Tonnato Sauce
2 medium free-range egg yolks
2 tsp white wine vinegar
15g anchovy fillets
1 tbsp capers
200g tinned tuna in olive oil, drained
100ml extra-virgin olive oil
100ml light olive oil
Heat the oven to 200°C. Heat a little olive oil in a large frying pan, then add the veal and brown all over (about 2 minutes on each side). Remove to a baking tray and season well. Cook in the oven for 10 minutes, then rest. When cooled, roll the veal tightly in cling film and twist the edges to seal. Chill for 2 hours. Remove the cling film and cut into 0.5cm thick slices. Use a very sharp knife and cut the meat across the grain.
Tonnato Sauce
Put the egg yolks, vinegar, anchovies, capers and tuna in a food processor on a low speed, then blend until smooth. Slowly pour the oils into the tuna mix until it forms a thick mayonnaise. If it's too thick, mix in a small amount of warm water. Taste and season if required.
Put a generous amount of the tuna mayo on a serving platter, then top with the veal slices. Drizzle over a little olive oil, then sprinkle with sea salt and black pepper. Lightly dress the watercress with the extra-virgin olive oil and balsamic vinegar, and scatter over with extra capers if desired. Serve immediately.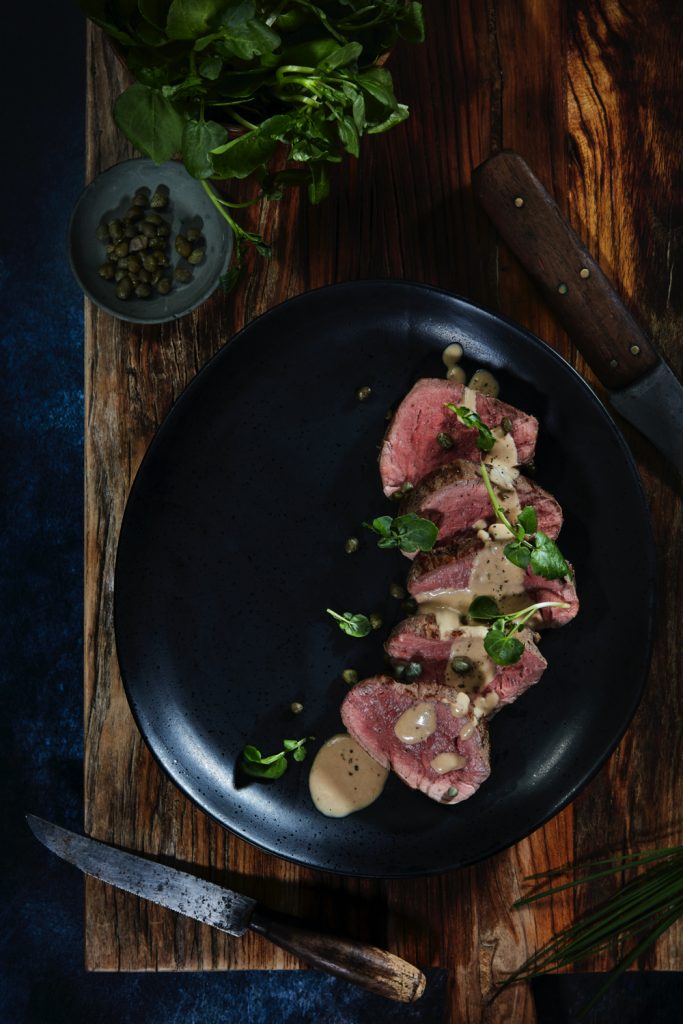 REDISCOVER A
COOKING CLASSIC