Veal Fillet with Stroganoff Sauce
3 packets Richmond Valley Veal Eye Fillets
2 tbsp olive oil
2 tbsp butter
Salt and freshly ground black pepper
1 onion chopped or ½ cup or so finely chopped shallots
2 cups fresh mushrooms, sliced
1/3 cup beef stock
4 shakes Tabasco
1 tbsp fresh tarragon
1 tbsp Worcestershire
1 cup sour cream
375g pappardelle
¼ bunch chives
150g cornichons
Heat olive oil in a heavy non-stick pan over high heat. Brown the veal quickly on both sides, 1 to 2 minutes. Remove, and season lightly with salt and pepper.
Melt the butter in the pan over moderate heat. Add the onion and sauté for about 2 minutes or until tender. Stir in the mushrooms, cover, and cook for 3 minutes. Uncover, salt and pepper again lightly and add the stock, Tabasco, tarragon and Worcestershire. Bring to a boil and stir thoroughly uncovered for 2 minutes.
Remove the pan from the heat and carefully whisk in the sour cream until smooth. The sour cream should just heat through; do not let the sour cream boil.
Place the veal on a plate with cooked pappardelle. Garnish with chives and serve with cornichons.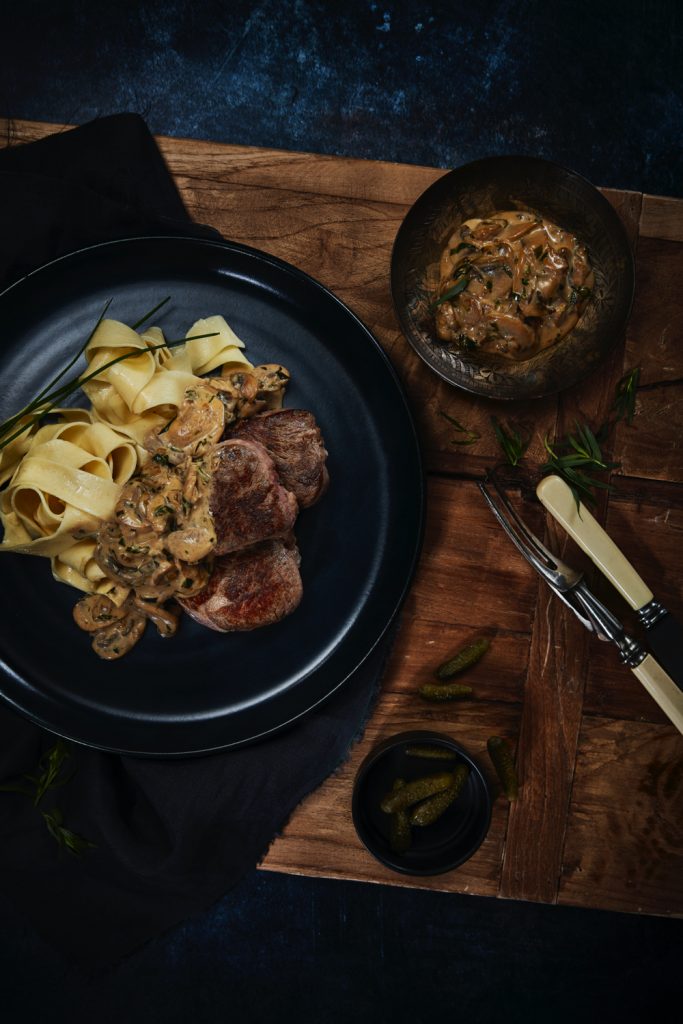 REDISCOVER A
COOKING CLASSIC