Veal Fillet with Polenta & Pea Salad
3 packs Richmond Valley Veal Eye Fillet
2 tsp olive oil
4 slices prosciutto, halved lengthways
Sea salt & pepper
Crushed Pea Salad
1 cup fresh or frozen peas
1 cup fresh or frozen broad beans
1 tbsp white wine vinegar
2 tbsp extra virgin olive oil
1 tsp Dijon mustard
¼ bunch flat-leaf parsley, leaves picked
¼ bunch fresh tarragon, leaves picked
¼ bunch mint, leaves picked & torn
Sea salt & pepper
Polenta
2/3 cup instant polenta
20g unsalted butter
1 ¼ cups Parmesan, grated
Wrap prosciutto slices around the side of each fillet. Season with pepper. Heat oil in a large frying pan over medium-high heat. Add steaks and cook for 2-3 minutes each side. Transfer to a plate, cover with foil and rest for 3 minutes.
Polenta
Place reserved milk in a pan over medium-high heat and bring to the boil. Reduce heat to low, add polenta and cook, stirring constantly, for 5 minutes or until creamy. Stir in butter and parmesan. Season.
Salad
Blanch peas and broad beans in boiling salted water for 1-2 minutes until tender. (If using frozen, blanch for 30 seconds). Drain and refresh under cold water. Drain well again. Mix the peas, broad beans and herbs together in a large bowl. In a separate bowl, whisk the oil, vinegar and mustard together. Drizzle over the salad and top with crumbled feta.
Serve polenta topped with veal and pea salad.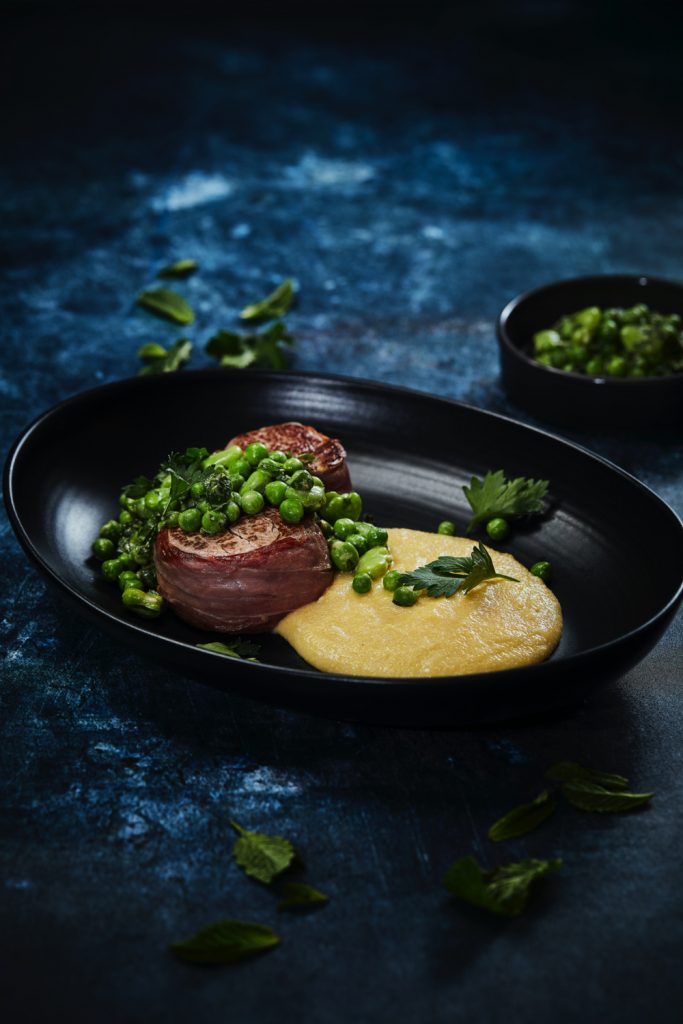 REDISCOVER A
COOKING CLASSIC