Veal Eye Fillet with Buttermilk Mash
4 Richmond Valley Veal Eye Fillet Steaks
Vegetable oil
Buttermilk Mash
2 tbsp olive oil
600g brushed potatoes, washed, peeled & quartered
2 tbsp butter
200ml buttermilk
Green Garlic Butter
8 cloves garlic
½ cup flat-leaf parsley
2 long green shallots, green parts only, finely sliced
2 tbsp tarragon, finely chopped
250g butter, softened
Green Garlic Butter
Place garlic, parsley, tarragon, shallot and a pinch of salt in a mortar and pestle and pound to a paste. Add softened butter, stir to combine. Spoon onto a piece of plastic wrap and roll into a log, refrigerate until solid.
Buttermilk Mash
Place potatoes in a medium saucepan, cover with water and bring to a boil. Reduce heat to medium and simmer for 15-20 minutes until potatoes are tender. Drain in a colander and stand for 5 mins to allow potatoes to dry.
Heat butter and buttermilk in a small saucepan until hot but not boiling. Return potatoes to the saucepan and mash coarsely with potato masher. Add buttermilk mixture and continue to mash till smooth.
Veal Steak
Season the steak well with salt and pepper. Heat a heavy-based frying pan until very hot but not smoking. Drizzle some oil into the pan. Add the steak. Sear evenly for 2 mins on each side, turning every minute for the best-caramelised crust. Leave to rest on a board or warm plate for about 5 minutes.
To serve
Slice green garlic butter into discs with a hot knife. Serve the steak with a slice of green garlic butter on top and a side of buttermilk mash.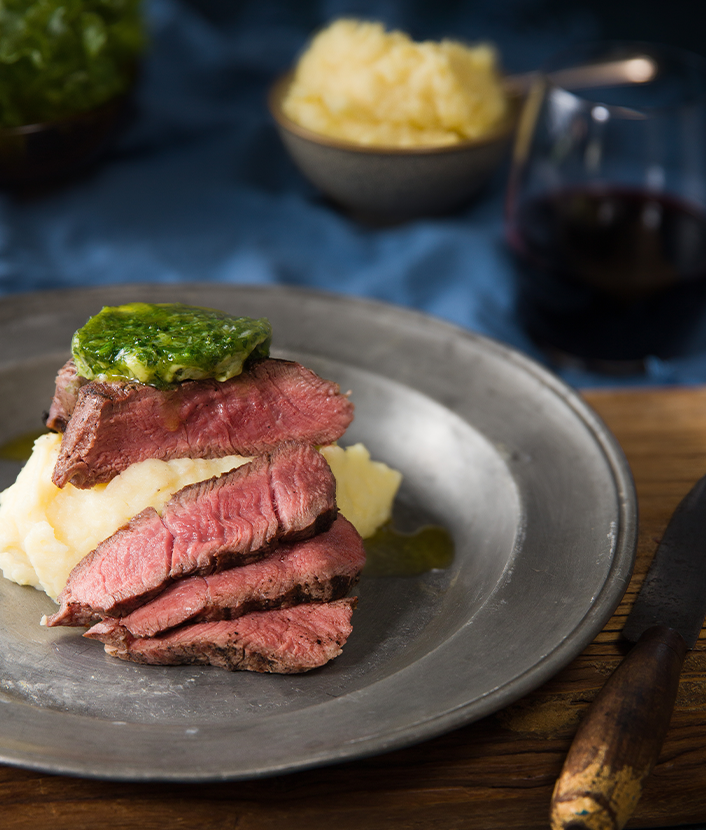 REDISCOVER A
COOKING CLASSIC