250g Richmond Valley Veal Mince
¼ cup chicken stock
1 tbsp light soy sauce
1 tbsp Shaoxing wine
2 tsp ginger, grated
1 tsp salt
¼  tsp ground toasted Sichuan peppercorns
4 spring onions, coarsely chopped
1 large carrot, coarsely chopped
½  cup frozen corn, thawed
½  cup frozen peas, thawed
1 tbsp sesame oil
40 dumpling wrappers
2 tbsp vegetable oil
In a large bowl, mix the veal mince, chicken stock, light soy sauce, Shaoxing wine, ginger, salt, and toasted Sichuan peppercorns. Mix until the liquid is fully absorbed. Cover with plastic wrap, refrigerate.
Place carrots into the food processor and finely chop. Add spring onions and continue to process until finely minced. Add the minced vegetables, corn, peas and sesame oil into the veal mix and combine well. Scoop about 1-1.5 tablespoons of filling and place in the centre of a wrapper. Hold the dumpling with one hand and seal the edges with the other hand. After folding, press the edges again to seal well.
Cook the dumplings in batches. Heat 1 tablespoon oil in a non-stick frypan over medium heat. Add dumplings. Cook until the bottoms turn golden. Add 2 tablespoons water, and cover. Cook until the other side also turns golden and the dumplings are cooked through. Approx 2 to 3 minutes.
Serve immediately with a spicy dipping sauce.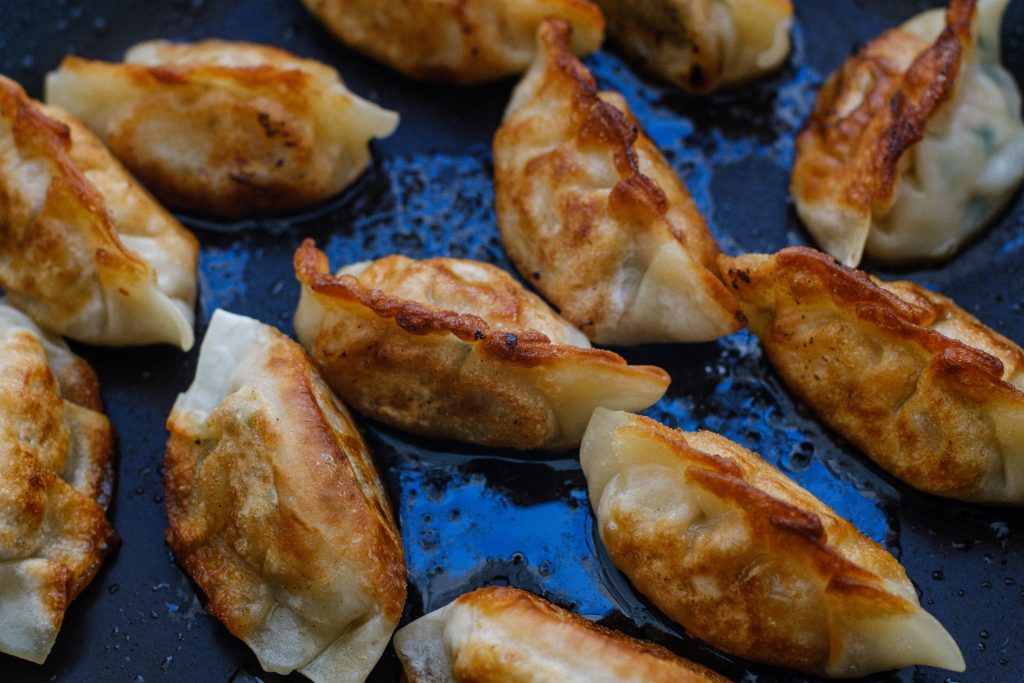 REDISCOVER A
COOKING CLASSIC