Teriyaki Veal with Japanese Slaw
4 Richmond Valley Veal Sizzle Steaks
Vegetable oil
Teriyaki Sauce
¼ cup sake
¼ cup soy sauce
¼ cup Mirin
50g brown sugar
5cm piece ginger, peeled & finely grated
2 cloves garlic, finely minced
Japanese Slaw
100g sour cream
100g kewpie (Japanese Mayo)
1 tbsp wasabi
1 tbsp lemon juice
1 green shallot, thinly sliced
¼ green cabbage, finely shaved
¼ red cabbage, finely shaved
1 tsp sesame seeds, for garnish
Lemon wedges to serve
Teriyaki Sauce
Add all ingredients to a small bowl and whisk to combine, making sure the sugar dissolves. Add sizzle steaks and marinate for 5 mins.
Japanese Slaw
Whisk together sour cream, kewpie, wasabi and lemon juice in a medium bowl. Gently mix in green and red cabbage and shallots. Season to taste.
Veal
Heat barbecue on high heat. Remove veal steaks from marinade, allowing the excess sauce to drip off. Grill for 1-2 mins each side until medium-rare, remove from grill and rest on a plate.
Serve with Japanese slaw and lemon cheeks.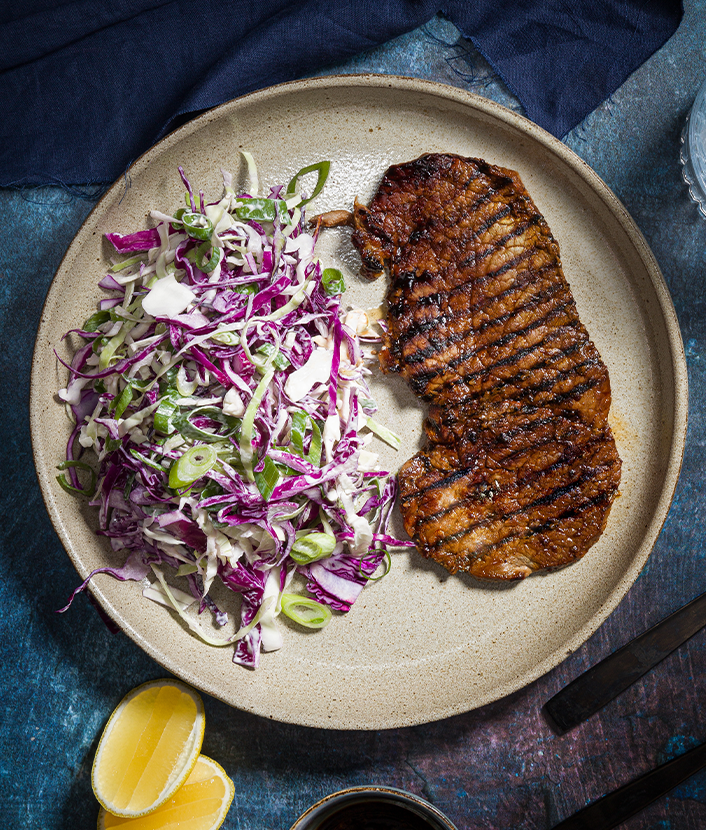 REDISCOVER A
COOKING CLASSIC