Our Favourite Veal Bolognese
400g Richmond Valley Veal Mince
400g pork mince
1/4 cup unsalted butter
1 onion, finely diced
2 carrots, peeled & finely diced
2 celery stalks, finely diced
3 cloves garlic, minced
1 tbsp tomato paste
100g pancetta, diced
1 cup dry white wine
2 cups whole milk
1 beef stock
2 x 400g tins crushed Roma tomatoes
2 bay leaves
¼ cup flat-leaf parsley chopped
Salt &pepper
500g pappardelle pasta, cooked according to package instructions
Parmigiana Reggiano cheese
Melt butter in a large heavy pot oven over medium-high heat. Add onion, carrot, celery, garlic, tomato paste and 1 teaspoon of salt. Sauté, stirring frequently, for about five minutes but do not brown.
Add pancetta and cook, stirring frequently, until the vegetables are soft. Add the veal and pork about a third at a time, allowing most of the liquid to evaporate before incorporating more. Cook, stirring frequently, until browned and all the liquid is evaporated. Deglaze the pot with the white wine and reduce the heat.
Add the milk, stock, tomatoes, salt, and black pepper and bring to the boil. Add bay leaves and parsley and simmer on low, half-covered, for four hours, stirring occasionally.
Remove bay leaves. If the sauce has not completely thickened yet, increase the heat slightly and simmer another 15 to 30 minutes with the lid off. Serve with pasta and freshly grated Parmigiana Reggiano.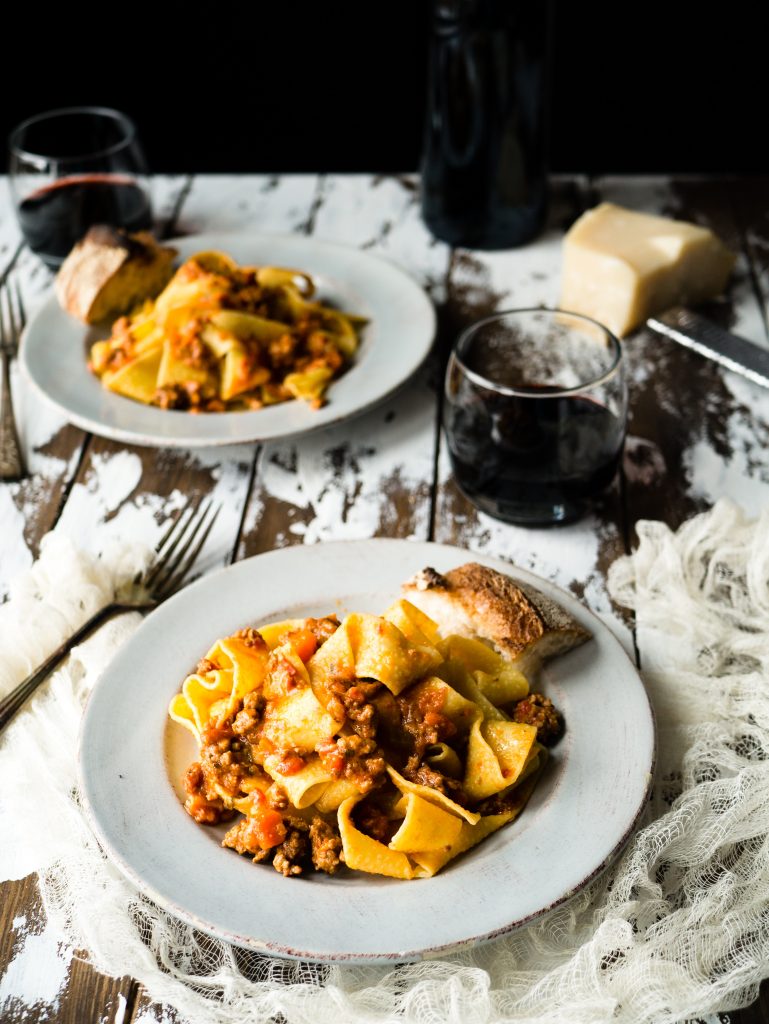 REDISCOVER A
COOKING CLASSIC