Grilled Veal Fillet with Cheat's Green Goddess Béarnaise Sauce
2 packs Richmond Valley Veal Scotch Fillet
2 handfuls rocket
Green Goddess Bearnaise
1 bunch parsley leaves
½ bunch chives
1 bunch tarragon
1 whole egg
350 ml grapeseed oil
2 tbsp white wine vinegar
1 tbsp Dijon mustard
Sea salt
Lemon juice, to taste
Crispy Onions
2 large onions, peeled, finely sliced & rings separated
1 cup milk
1 cup flour
1 tsp paprika
1 tsp salt
1 tsp black pepper
1 cup canola oil
Green Goddess Bearnaise
Using a stick blender and blender cup, place the herbs in the blender cup. Blitz with 100ml oil. Carefully crack the egg and place it in the base of the blender cup, taking care not to break the yolk. Pour over the remaining 250ml grape seed oil, add the vinegar, mustard and a good pinch of salt. Place the stick blender in the blending cup and carefully position the head of the stick blender so it covers and encloses the egg yolk. Blitz then taste and season with a little more salt and a squeeze of fresh lemon.
Crispy Onions
Mix the flour, paprika, salt and pepper in a bowl.
Heat the canola oil in a heavy pan. Dredge the onion rings in the seasoned flour, shaking off the excess, and fry until golden brown. Drain on paper towels. Keep warm until the rest of the onions are done.
TIP:
Do small batches at a time so the rings don't stick together, and don't dredge the rings until they're ready to go into the oil or they'll give off too much moisture.
Veal
Season veal and grill 2-3 minutes each side. Allow to rest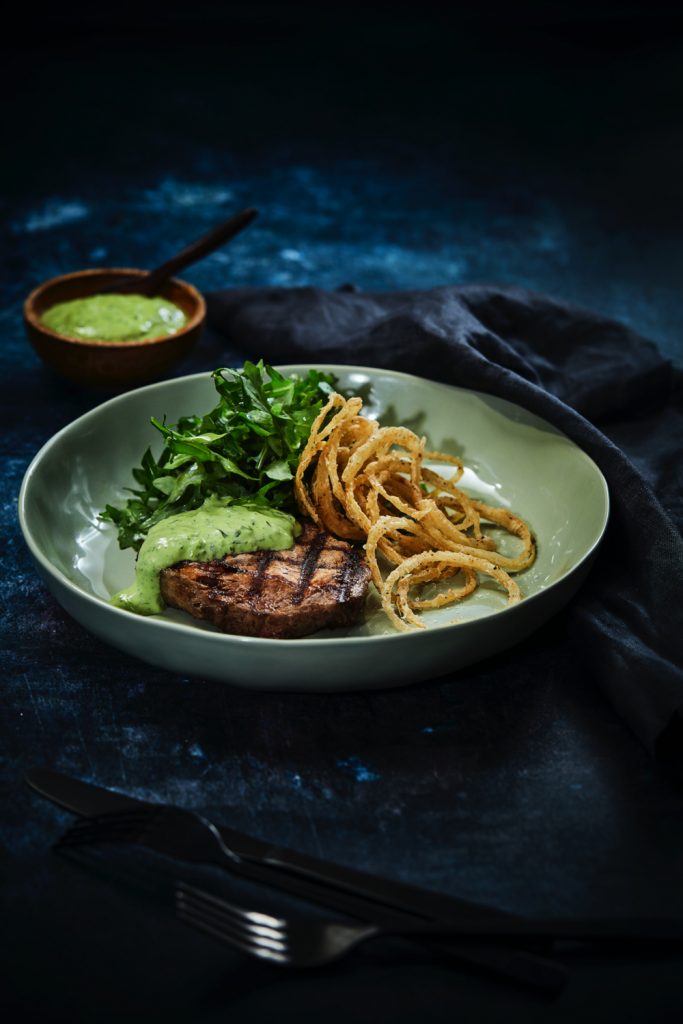 REDISCOVER A
COOKING CLASSIC