Giant Veal & Ricotta Meatballs with Spaghetti
1 pack Richmond Valley Veal Mince
2/3 cup fresh breadcrumbs
1/3 cup milk
½ onion, grated
1 garlic clove, finely grated
½ cup ricotta cheese
¼ cup Parmesan, freshly grated
¼ cup flat leaf parsley, chopped
1 large egg, lightly beaten
1 tsp sea salt
Fresh ground black pepper
500g spaghetti
Sauce
2 400g cans chopped tomatoes
1 onion, coarsely chopped
2 garlic cloves, peeled
1 tbsp fresh mixed herbs (e.g thyme, sage & oregano)
150ml red wine
2 tbsp extra-virgin olive oil
Sea salt & pepper
Sauce
Blend tomato, onion, garlic and herbs in a blender until smooth. Place into a large saucepan, add wine and oil, season to taste and bring to the boil. Simmer while you make the meatballs.
Meatballs
Combine the breadcrumbs and milk in a small bowl. Let sit for 5-10 minutes.
In a large bowl, combine the onion, garlic, ricotta, Parmesan, parsley, egg, salt and pepper. Add the soaked breadcrumbs and milk and mix well. Add the veal and gently knead the veal to work in all the other ingredients. Take care not to overwork the veal.
Using a 1/3 cup measure, shape into round balls and arrange on a large tray.
Add the meatballs to the simmering sauce, cover with sauce and place a lid on the pan. Cook on a low simmer. If it simmers too fast, the meatballs will toughen. Carefully turn each meatball after 20 minutes, cover again and continue to simmer until the meatballs feel firm to the touch, 35-45 minutes.
Serve on top of cooked spaghetti with extra grated Parmesan, crumbled ricotta and fresh herbs.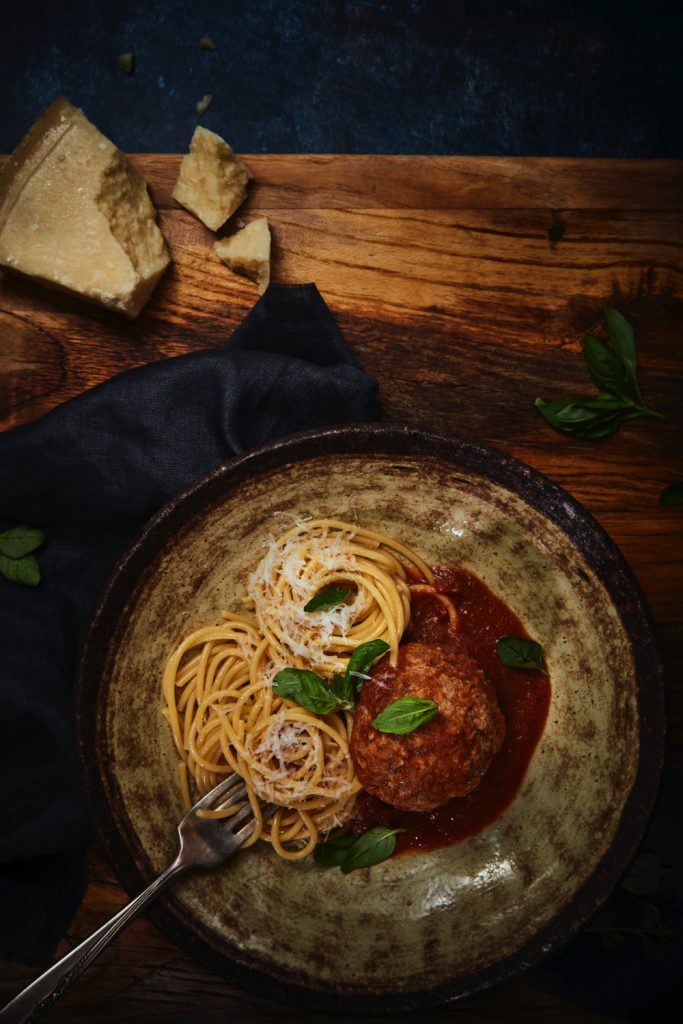 REDISCOVER A
COOKING CLASSIC