Fragrant Soba Noodle Soup with Veal Dumplings
500g Richmond Valley Veal Mince
1L beef stock
1L water
2 tbsp soy sauce
1 tbsp sugar
1 stalk of lemongrass, bruised with back of knife
5cm ginger, sliced
4 spring onions, white parts roughly chopped, green parts sliced and set aside
5cm piece ginger, peeled
3 cloves garlic, peeled
¾ cup fresh breadcrumbs
2 tbsp fish sauce
2 tbsp vegetable oil
1 packet (270g) soba noodles
200g sugar snap peas or snow peas, trimmed & halved
Toasted sesame seeds, to serve
Lemon wedges, to serve
In a medium saucepan, combine the stock, water, soy sauce, sugar, lemongrass and sliced ginger. Place on medium heat and simmer.
In a food processor, combine the white parts of the spring onions, extra ginger, and garlic. Pulse until finely chopped. Add breadcrumbs, fish sauce and veal mince. Pulse until mixture comes together (don't over mix). Form heaped tablespoons of mixture into meatballs.
Heat oil in a large pot over high heat. Add meatballs and brown on all sides. Over a sieve, add stock to the pot and discard sieved contents. Reduce heat and simmer gently for 5 minutes. Add soba noodles and cook for 3 minutes. Add the sugar snap/snow peas, cook for 1 minute.
Serve soup in large bowls with a generous squeeze of lemon juice and sprinkling of sesame seeds.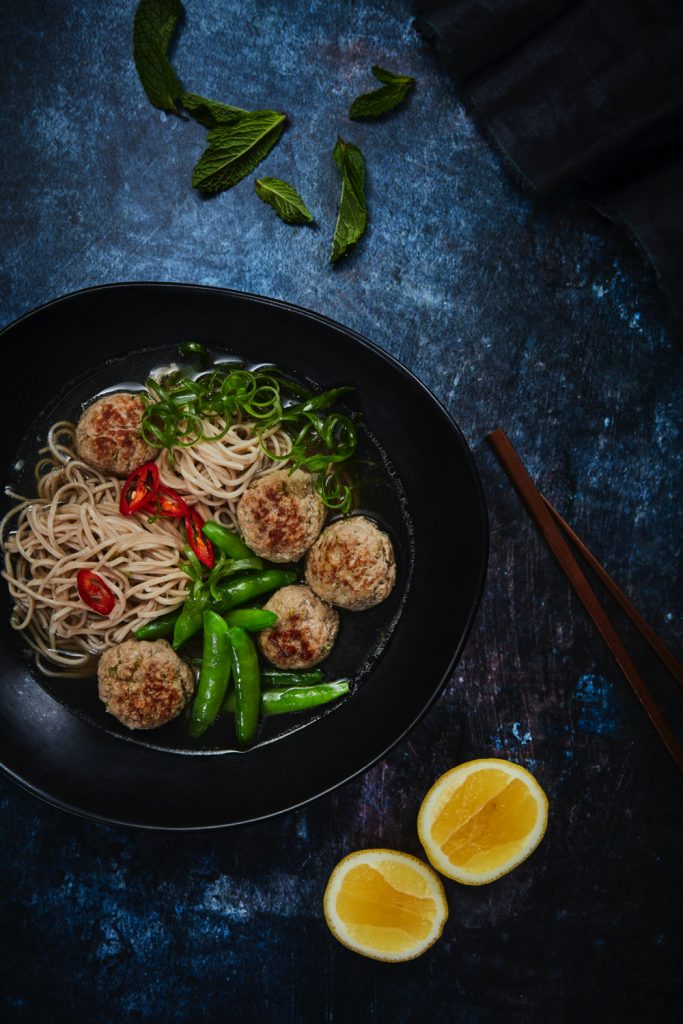 REDISCOVER A
COOKING CLASSIC