Festive Veal Wellington with Cherry Sauce
Veal Filling
800g Richmond Valley Veal Mince
2 brown onions, finely grated
4 garlic cloves, finely minced
1 tbsp milk
1½ cups fresh breadcrumbs
2 eggs, lightly beaten
2 tbsp fresh rosemary, finely chopped
1 cup pecans, finely chopped
1 tsp sea salt
1 tsp cracked pepper
Mushroom Filling
500g mushrooms
2 shallots, roughly chopped
2 garlic cloves, finely minced
1 tsp thyme leaves, finely chopped
1 tbsp butter
1 tbsp olive oil
Salt & pepper
Pastry
12 slices prosciutto
750g Puff Pastry Sheets
1 egg, lightly beaten
Cherry Sauce
1 cup frozen cherries
150g cranberry sauce
Preheat oven to 180oC. Place onion, garlic, milk and breadcrumbs in a bowl and sit for 5 mins. Add the rest of the ingredients and mix to combine. Press into a sausage shape 30cm x 10cm and place on a lined baking try. Bake for 30 mins, remove and cool for 30 mins.
Add mushrooms, shallots, garlic and thyme to a food processor. Pulse until finely chopped. Heat butter and olive oil over medium heat in a large pan. Add the mushroom mix and cook for approximately 10 minutes, until all liquid has evaporated, and the mix is dry. Season and cool.
Place a 60cm long piece of cling film on a cutting board. Lay the prosciutto on the cling film, slightly overlapping, in a double row, to form a 30cm square. Spread the mushroom evenly over the prosciutto. Place the cooled veal sausage in the middle and wrap so the veal is completely covered, using the cling film to roll it as tightly as possible. Twist the ends of the cling film tightly. Refrigerate for 30 mins.
Preheat oven to 200oC. Join puff pastry sheets together to form a 37cm x 37cm sheet. Brush with egg. Remove the cling film from the veal and place on one side of the pastry. Roll up away from you so the seam ends up underneath, with a 3cm overlap of pastry. Trim any excess and keep for decorating. Carefully crimp down each end of the wellington and trim so there is just enough pastry to tuck back under itself. Brush with egg, adding decorative shapes cut from remaining pastry sheets. Refrigerate for 30 mins. Bake for 40 mins until golden brown. Slice and serve with cherry sauce.
Cherry Sauce
Add ingredients to a saucepan over medium heat. Bring to the boil, stirring occasionally. Reduce heat to low and simmer for 3 more mins. Serve warm.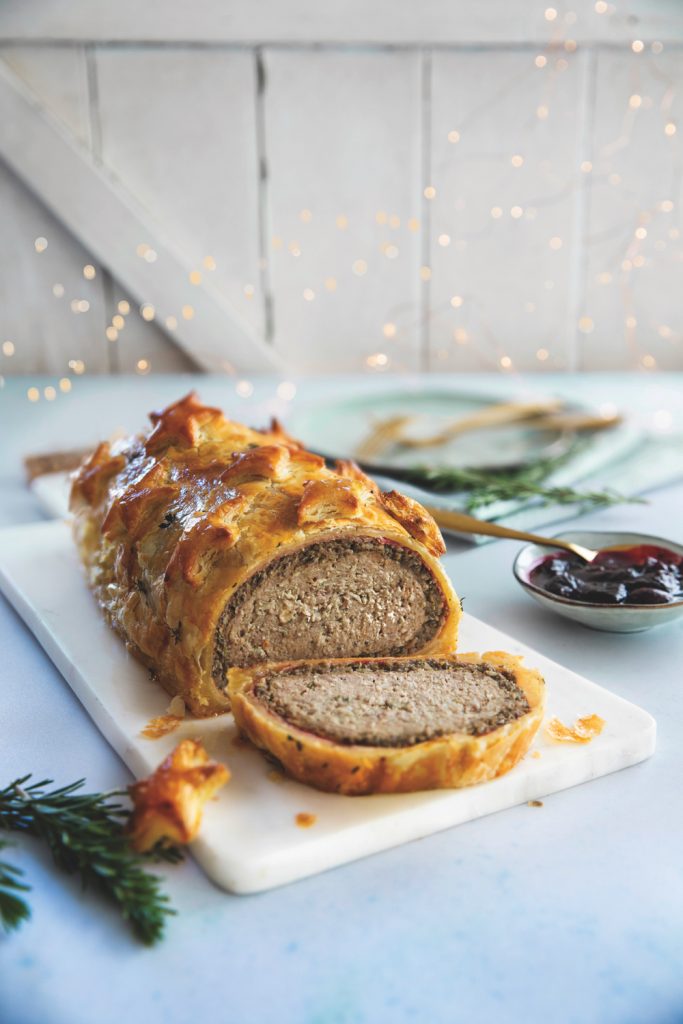 REDISCOVER A
COOKING CLASSIC