Crumbed Veal Scaloppine with Caponata
Scallopine
2 400g packets Richmond Valley Veal Sizzle Steak
200ml milk
3 eggs, lightly beaten
Seasoned plain flour
250g fine fresh breadcrumbs
120ml olive oil
120g butter, coarsely chopped
Lemon wedges
Caponata
150ml olive oil
1 red capsicum, seeds removed & diced
1 yellow capsicum, seeds removed & diced
1 medium zucchini, diced
1 small to medium eggplant, diced
½ red onion, diced
1 clove garlic, finely diced
½ bunch parsley
20g toasted pine nuts
10g dried currants
40ml sherry vinegar
30g raw sugar
Sea salt
Scallopine
Whisk milk and eggs in a large bowl. Dip each veal sizzle steak in seasoned flour, then egg mixture, then breadcrumbs, shaking off excess in between. Place on trays lined with baking paper and refrigerate until required.
Heat a quarter of the oil and a quarter of the butter in a large frying pan over medium-high heat. Add a quarter of the scaloppine and cook, turning once, until golden and cooked through (4-5 minutes). Wipe out pan and repeat with remaining, oil, butter and scaloppine. Season to taste and serve hot with caponata and lemon wedges.
Caponata
Heat most of the olive oil in a fry pan over a high heat and quickly shallow fry the capsicum, eggplant and zucchini in batches, before they lose colour and texture. Drain in a colander. Sweat the onion and garlic in a small amount of olive oil over medium heat. Return the rest of the vegetables to the pan and bring back to the heat. Add the toasted pine nuts and dried currants and season with the sherry vinegar, sugar and salt.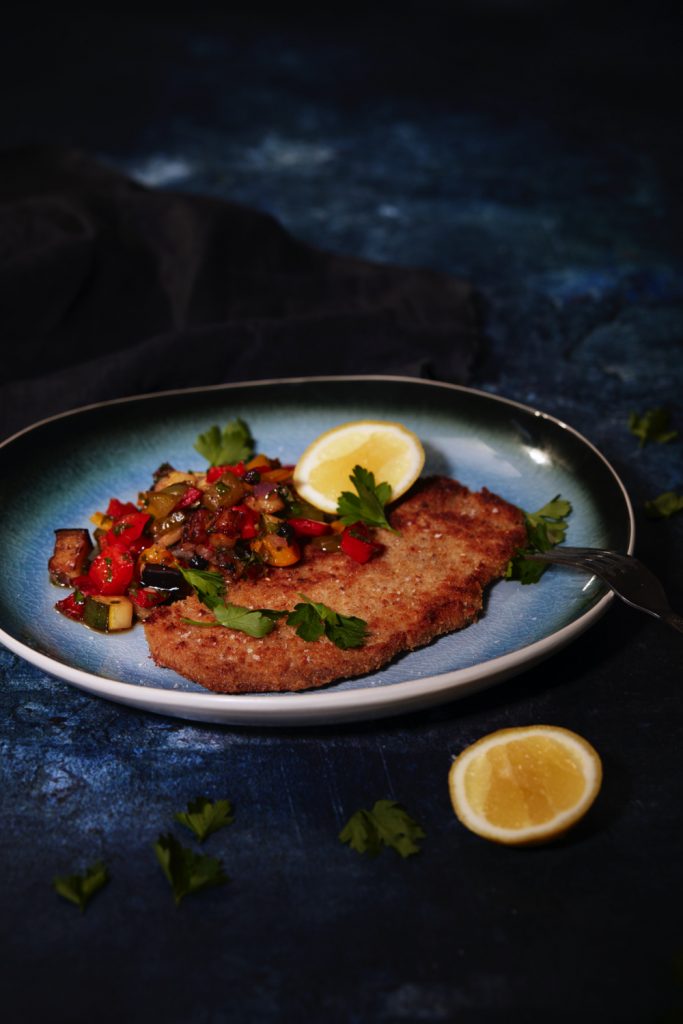 REDISCOVER A
COOKING CLASSIC