Caribbean Veal Steaks with Pineapple Relish & Flat Bread
2 x 300g packets Richmond Valley Veal Scotch Fillets
1 x 200g packet flat bread
½ cup red cabbage, finely sliced
8 baby cos leaves
Olive oil
Marinade
2 green onions
2 sprigs of fresh thyme
1 tsp salt
¼ tsp black pepper
½ tbsp brown sugar
1 tsp ground allspice
½ tsp nutmeg
½ tsp cinnamon
1 long red chilli
1 tbsp cup soy sauce
1 tbsp vegetable oil
2 tbsp white vinegar
½ onion
4 tbsp orange juice
1 clove garlic
½ tsp grated ginger
Pineapple Relish
1 cup onion, diced
¼ cup green capsicum, diced
1 440g tin crushed pineapple
1 tsp sea salt
¼ tsp ground black pepper
1/3 cup apple cider vinegar
1 tsp lime zest
1 tbsp whole-grain mustard
1 clove garlic, finely chopped
Marinade
Combine all ingredients in food processor until smooth. Place the veal in the marinade, cover and refrigerate for 8hrs or overnight.
Relish
In a medium saucepan over medium heat, add the oil onion and green pepper. Sauté until soft. Add the pineapple, salt and pepper. Cook over medium heat, uncovered, until the liquid reduces, about 30 minutes. Deglaze the saucepan with the vinegar and add the lime zest, mustard and garlic. Cook uncovered over low heat until the liquid is reduced again, about 20 minutes more. Transfer to a bowl, cool, cover and refrigerate until ready to use.
Flat Bread
Lightly brush both sides of the flat breads with oil and grill for about 30 seconds to 1 minute on each side, or until golden brown with grill marks. Set aside to cool slightly.
Veal
Season veal and grill or BBQ for 3 minutes each side. Allow to rest and slice.
To assemble
Spread the pineapple relish on each flatbread, top with veal, cos and red cabbage.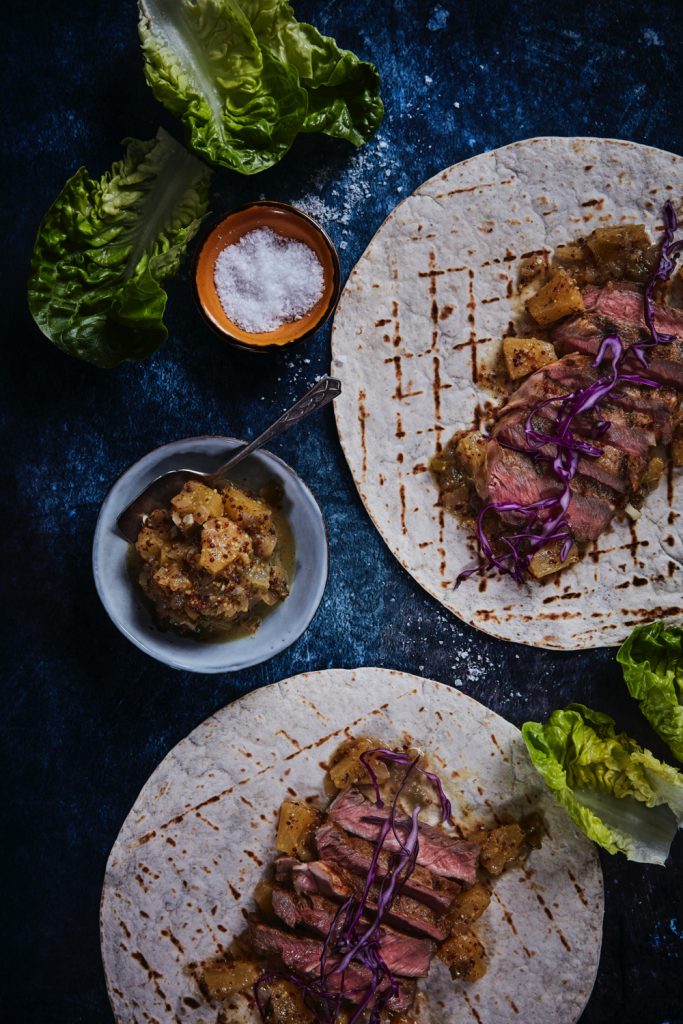 REDISCOVER A
COOKING CLASSIC